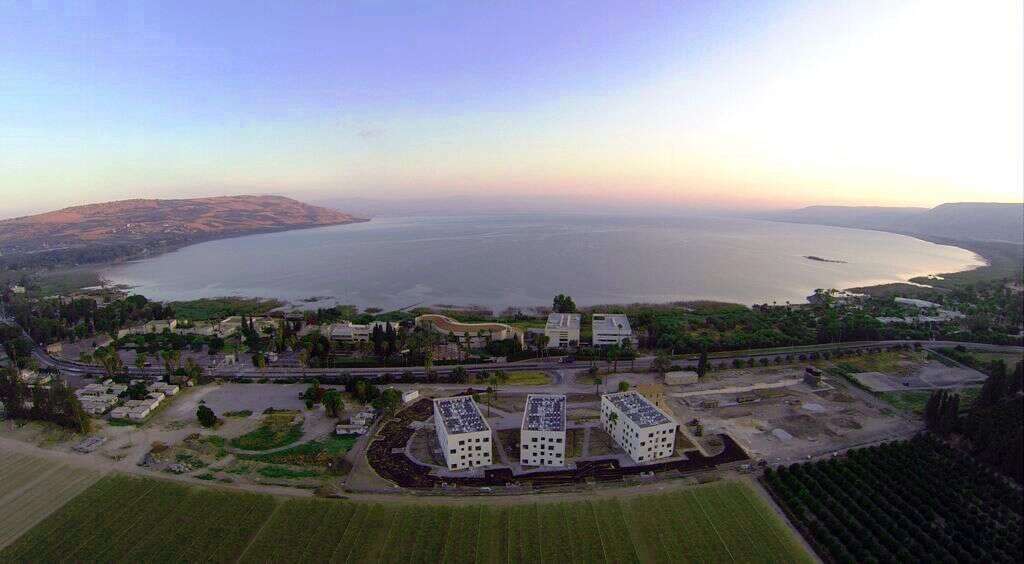 Kinneret College at Sunrise 
The Program Committee of the 35th Annual Conference of the Association for Israel Studies invites scholars conducting research on any aspect of Israel Studies to submit proposals for organized panels and individual papers. Of special interest are proposals relating to the conference theme: Images and Realities: Land of Promise to Startup Nation?
"O, my Kinneret, were you there or did I only dream?" (Rachel Blaustein, 1927)
AIS 2019 takes place at Kinneret College on the Sea of Galilee, situated in a historically significant and multicultural area in the northern periphery of Israel. This is the birthplace and heartland of some of the most renowned ideals of the early Zionist movement, projecting images of national and social redemption set in a rural and agricultural context. More than a century later, the dominant ideals of Israeli society seem to have long moved away from the agricultural and communal vision projected from the shores of the Kinneret, to supposed images of technological prowess and economic dynamism set within a predominantly urban setting.
The theme of this conference offers a chance to reflect on this and many other changing visions and values in Israeli society, since pre-state mandatory Palestine to the present day: often contrasting image-making with concrete reality. It seeks panels and individual papers in the multiple disciplines that constitute the social sciences, arts and humanities: exploring the apparent contrasts and sometimes deep tensions between modernity and tradition; countryside and city; agriculture and industry; communalism and individualism; socialism and capitalism; center and periphery; East and West; democracy and ethnocracy; nationalism and cosmopolitanism; peace-making and militarism; images and realities.
Deadline for Submission of all proposals: January 15, 2019
Panel proposals should include information on the panel theme and on each individual paper. Proposals should not exceed 750 words.  We encourage cohesive panel submissions.

Individual paper proposals should not exceed 250 words.

All presenters will be required to register for the conference and be current AIS members in order to present and be listed on the conference program. Registration can be done directly at the AIS website.

Graduate students who have completed their course work are encouraged to submit their proposal and should provide the email of their advisor for approval.






Travel Grants
The AIS will provide a limited number of travel grants to help Graduate students and PhD holders without university position sponsoring their trip to Israel.
- All travel grant applications should be sent by email to Ilan Ben-Ami, AIS Treasurer, at: treasurer@aisisraelstudies.org
- Graduate students who wish to apply for travel grants should send a request along with a copy of their proposal and a letter from their advisor.
- PhD holders without university travel support should send an abstract of the proposed paper and a current CV.
- The travel grant application deadline is January 15, 2019
Program Committee
Chairs: Ze'ev Drory (Kinneret College) & Donna Robinson Divine (Smith College)
Anthropology: Judith L. Goldstein (Vassar College) & Nimrod Luz (Kinneret College)
Arab-Israel Conflict: Jonathan Gribetz (Princeton University) & Alon Kadish (Hebrew University),
Arab Society in Israel: Faisal Azaiza (University of Haifa) & Rami Zeedan (University of Kansas)
Civil-Military Studies: Ofra Ben Ishai (Open University of Israel) & Stuart Cohen (Bar-Ilan University)
Communications: Hillel Nossek (Kinneret College) & Yoram Peri (University of Maryland)
Education: Niva Dolev (Kinneret College), Mark Greenberg (Penn State University) & David Passig (Bar-Ilan University)
Film, Theatre and Visual Arts: Tobias Ebbrecht-Hartmann (Hebrew University) & Dina Roginsky (Yale University)
Gender Studies: Shulamit Reinharz (Brandeis University) & Orna Sasson-Levy (Bar-Ilan University)
Hebrew Literature: Lior Libman (Binghamton University), Naomi B. Sokoloff (University of Washington) & Shira Stav (Ben-Gurion University)
Historical and Cultural Geography: Yossi Ben-Artzi (University of Haifa) & Haim Goren (Tel Chai College)
History: Aviva Halamish (Open University), Derek J. Penslar (Harvard University) & Hanna Yablonka (Ben-Gurion University) 
International Relations: Yael S. Aronoff (Michigan State University) & Dan Miodownik (Hebrew University)
Israel & Diaspora Relations: Sarah Hirschhorn (Northwestern University) & Jonathan Rynhold (Bar-Ilan University)
Law: Pnina Lahav (Boston University) & Mohammed Wattad (Zefat Academic College)
Political Science: Oded Haklai (Queen's University) & Yoav Kapshuk (Kinneret College)
Religious Studies: Yoram Bilu (Hebrew University) & Joseph Ringel (Northwestern University)
Sociology: Michal Frenkel (Hebrew University) & Aziza Khazzoom (Indiana University)
Zionism: Meir Chazan (Tel Aviv University), Reuven Gafni (Kinneret College) & Colin Shindler (SOAS University of London)
Conference Academic Coordintor: Giora Goodman, ais2019@aisisraelstudies.org
Registration (required for all presenters and attendees)